Zapper

Description

The Zapper uses projected particle acceleration through untamed beams of focused energy to rapidly speed the atoms to the target. In other words, it 'microwaves' the target from within. Death by this weapon will not have any effects on the target's outside appearance, but the insides will be charred and melted away. The unstable beams limit its range greatly, but anyone within its range should not take this gun lightly.

Type

Close Range

Power

1/8

Range

2/8

Accuracy

8/8

Speed

8/8

Ammo

8/8 [50 Shots, 1/4 Clips]
Description
Edit
A black gun with purple highlights. In the Zapper is a powerful atom accelerator that intensifies the atom's power and propels it out of the gun in a 'zap' like shot. Used at Close Range and when coupled with its powerful stats, the Zapper can finish off shielded enemies in 4-8 seconds(2-6 second for unshielded enemies). Because the atoms cannot maintain their power for too long, the Zapper has very little range. Even though the power is low, each shot lasts a split second, granting it a high DPS.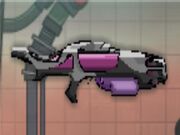 Ad blocker interference detected!
Wikia is a free-to-use site that makes money from advertising. We have a modified experience for viewers using ad blockers

Wikia is not accessible if you've made further modifications. Remove the custom ad blocker rule(s) and the page will load as expected.