Rocket Launcher

Description

This advanced prototype of early rocket launchers was designed specifically for anti-vehicle operations against the aliens. It has three rocket chambers, allowing three rockets to be shot in quick succession, and for three rockets to be loaded simultaneously. It is designed for speed and power. A direct hit is extremely lethal, while even being in the proximity proves deadly in most cases.

Type

Explosive

Power

8/8

Range

8/8

Accuracy

4/8

Rate of Fire

7/8

Ammo

1/8
Description
Edit
The Rocket Launcher is a dull green colour with military markings at the sides. It is designed with three rocket chambers so that three rockets can be fired quickly and reloaded quickly. It deals fatal damage to the target. Anything within the target area will also be destroyed. Due to its superb stats, it is one of the great three. Like the Plasma Grenade Launcher, it can kill someone on top or behind a thin platform or wall, only quicker.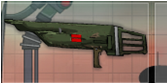 Ad blocker interference detected!
Wikia is a free-to-use site that makes money from advertising. We have a modified experience for viewers using ad blockers

Wikia is not accessible if you've made further modifications. Remove the custom ad blocker rule(s) and the page will load as expected.