Railgun

Description

Nicknamed the 'Thundergun', this gun gets its nickname from its appearance. It uses advanced technology to shoot a small conducting projectile at high speeds, which pierces any organic or lightly armored entity it touches. Immediately after being shot, the gun releases an extremely high voltage current, which is promptly drawn to the conducting bullet, leaving a high powered arc between the gun and the impact area. The release of high voltage requires the gun to recharge after every shot.

Type

Long Range

Power

7/8

Range

8/8

Accuracy

8/8

Speed

1/8

Ammo

1/8 [3 Shots, 1/8 Clips]
Description
Edit
The Railgun is a high voltage weapon. It is white with a blue chamber in the middle which is used to store electricity. When the Railgun is fired, the chamber will turn to red immediately, then slowly recharge to blue, suggesting that the chamber is painted red. This represents the charging time before another shot. This delay between each shot is a fatal flaw for the Railgun. The Railgun excels in range and power. If you have the Railgun, you dominate the field. Some people, especially beginners, do not like the railgun due to its delay. A headshot from this weapon almost always proves fatal, so watch out if AI enemies have it.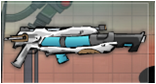 Ad blocker interference detected!
Wikia is a free-to-use site that makes money from advertising. We have a modified experience for viewers using ad blockers

Wikia is not accessible if you've made further modifications. Remove the custom ad blocker rule(s) and the page will load as expected.