Magnum T2

Description

This Magnum type handgun is the strongest pistol ever to date. Carried only by the highest ranking officers, it delivers a force strong enough to rival most rifles and other larger weapons. Because of its power, it needs to be held with both hands to keep the aim steady. It has a small clip, but packs a powerful punch if the shot connects.

Type

Starter

Power

2/8

Range

5/8

Accuracy

7/8

Rate of Fire

5/8

Ammo

4/8 [8 Shots, 8/16 Clips]
Description
Edit
The Magnum T2 is a starter type weapon with moderate stats in just about every category, making it a balancer, It is white and small. It deals out small damage but if can be used for any situation. This weapon, although good, is severely outclassed.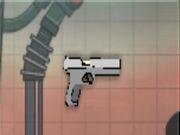 A magnum usually refers to a very large gun, so it makes sense that you have to hold on to it with 2 hands and that it make s a good amount of damage.
Ad blocker interference detected!
Wikia is a free-to-use site that makes money from advertising. We have a modified experience for viewers using ad blockers

Wikia is not accessible if you've made further modifications. Remove the custom ad blocker rule(s) and the page will load as expected.