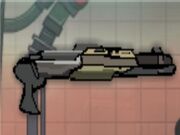 Flame Shotgun

Description

The Flame Shotgun gets its name from the sacs of gasoline fitted into each shell. When shot, the gasoline sacs burst from the shells within the barrel of the shotgun. The blas from the shot causes the gasoline to ignite, thus igniting the shells, and produces a large flame out of the barrel of the shotgun. Being hit by the flaming bullets is one matter, but being in the proximity of the flame is deadly as well.

Type

Close Range

Power

6/8

Range

2/8

Accuracy

1/8

Speed

2/8

Ammo

1/8 [4 Shots, 1/6 Clips]
Description
Edit
The Flame Shotgun looks like a normal shotgun: black and grey with military markings, but the ammo stock is totally different from a normal shotgun. Being a Flame Shotgun, the flames add extra damage into the overall damage, making it theoratically better than a normal shotgun. The Flame Shotgun has a reputation of being extremely powerful as two hits from a Flame Shotgun can end most lives but maybe one shot, if your opponents have less than 65% health.
Ad blocker interference detected!
Wikia is a free-to-use site that makes money from advertising. We have a modified experience for viewers using ad blockers

Wikia is not accessible if you've made further modifications. Remove the custom ad blocker rule(s) and the page will load as expected.